Choose the perfect vacation rental
Events in Wisconsin: Top Destinations
Events For the Perfect Wisconsin Vacation
There are many ways to enjoy Wisconsin. From wine tastings at the State Fair to family-friendly fall festivals. Fruit-focused events and world-class music festivals. Carnivals and fairground rides, flea markets, and craft workshops. Must-see events in Wisconsin are accompanied by unavoidably engaging entertainments around every corner in this serene corner of the country.
Events in Wisconsin: Top Accommodations

Best Family-Friendly Events in Wisconsin
It's not just Wisconsin's plethora of outdoor and seasonal food festivals that makes the state so perfect for families. Stratospheric excitement levels are the norm at the State Fair, and your kids will never forget the electric atmosphere at many more electric Wisconsin events.
1. Audubon Days Fall Family Festival

The most fun you can have in October with your family. Come to Audubon and find your way through complex corn mazes. Pick your own scrumptious treats in scented apple orchards. Give yourself a fright on haunted house and ghost tours. Carve your own pumpkin. Design your own Halloween costume. It's no wonder that this family-focused festival has been going strong for more than three decades.

2. Wo-Zha-Wa Days Fall Festival

Children are wowed by Wo. This autumnal celebration hosts a slew of family activities and live entertainments, including a hundred strong float parade. Carnival-goers cavort in the streets of Wisconsin Dells, and there are arts and crafts stalls and an antique flea market to pore over.

3. Wisconsin State Fair

Held in Milwaukee, Wisconsin's State Fair started life way back in 1851, not far from the Rock River. Plowing and vegetable growing competitions were on the agenda, and the rest is history. The State Fairground is shaped by the Milwaukee Mile, the oldest motor racing circuit in constant use anywhere in the world. Today, a forty foot roller coaster joins rides like the Sizzler, Freak Out, and Stratosphere. Relax in the Wisconsin Wine Garden or catch a gig at the main stage.

4. Warrens Cranberry Festival

When it comes to Wisconsin's child-friendly festivals, a visit to Cranberry Festival is always fruitful for families. America's biggest berry festival captures young imaginations through thousands of arts and crafts adventures, farm market stalls and antique and flea markets. Instill a healthy approach to eating and appreciation for one of the state's most delicious fruits.
Best Places to Stay for Events in Wisconsin

Best Outdoor Events in Wisconsin
What better way to enjoy this scenic state than joining in with its thrilling outdoor festivals? Savor locally produced wines, go on a hayride or head out into the flame-colored fall foliage on guided community walks.
1. Wine and Harvest Festival

What better way to drink in the spectacular beauty of Wisconsin State than by sampling its wines? Situated in downtown Cedarburg, the festival brings together the local growing winemaking community with the local one. Activities include wine tastings (naturally) hayrides and a Giant Pumpkin Grow Off, not to mention numerous activities pitched at the youngest festival attendees.

Appleton's answer to Munich's famous beer festival takes place across over a hundred food stalls, five music stages, and nearly two hundred arts and crafts stalls. Interactive workshops and attractions for children mean that the whole family can enjoy this beer-focused festival. Local brews do battle with international imports.

Be outward bound in St Croix Falls, a celebration of the flame-colored fall season. Hike through the local countryside in the company of local trail enthusiasts, spotting wildlife on your way. Baked goods and other refreshments fuel this delightful foray into one of Wisconsin's prettiest regions.
Recommended Accommodations for Events in Wisconsin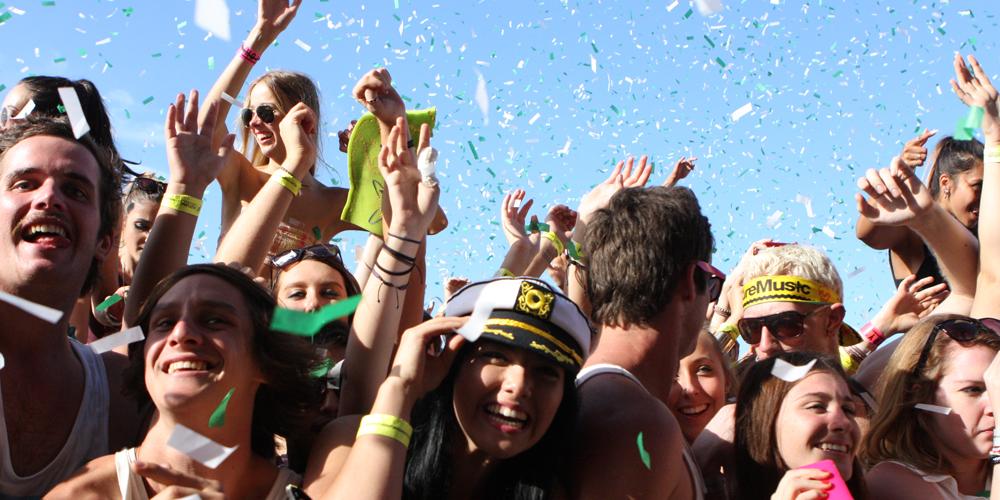 Best Music Events in Wisconsin
Take the pulse of Wisconsin at the state's famous music festivals. Whether you're into Taylor Swift or Rob Zombie, must-see events in Wisconsin will cater to you.
Billing itself as "your happy place," Country Fest welcomes country music fans to a breathtaking location in Cadott, Wisconsin. Fans return annually for performances by such country legends as Willie Nelson, Kris Kristofferson, Johnny Cash and even Taylor Swift. Three days of music are joined by interactive exhibitions and attractions, plus plenty of scrumptious food and delicious drinks.

A 320-acre sweep of Wisconsin's finest countryside is the stage for the state's most prestigious rock 'n' roll festival. Uniting rock fans from across the globe with the quiveringly potent power of rock, Wisconsin's Rock Fest has attracted headliners including Rob Zombie, Aerosmith, Iron Maiden and Fleetwood Mac. It's the largest rock and camping festival in all of America.

The brainchild of The National's Aaron Dessner and Bon Iver's Justin Vernon, Eaux Claires was founded to bring attention to the region's cultural producers and music makers. Music and arts flourish at this relatively new festival, which has nonetheless already featured Erykah Badu, Sufjan Stevens, and James Blake since its 2015 debut. Expect indie, rock and art rock performers and installations by visual artists.
Top Offers for Events in Wisconsin
Frequently Asked Questions
Must-See Events in Wisconsin: How much does it cost to rent a vacation rental in Wisconsin?
HomeToGo has incredible rentals for Must-See Events in Wisconsin, with prices as low as $78 per night.
Can I find a vacation home for a group of guests for Must-See Events in Wisconsin?
The size of a House rental is 203 m² and may fit 9 guests on average which is ideal for large groups.
What types of vacation homes can I find for Must-See Events in Wisconsin?
You can find 8,422 House rental and 2,947 Cabin for Must-See Events in Wisconsin on HomeToGo.
Average Nightly Rental Prices in Wisconsin
Vacation Rental Price Information in Wisconsin
Vacation Rental Availability in Wisconsin
Rental Availability Information in Wisconsin
Must-See Events in Wisconsin Inspiration
Top Vacation Ideas in Wisconsin