Choose the perfect vacation rental
Events in Texas: Top Destinations
Here's What Not to Miss in Texas
Must-see events in Texas focus on the state's dedication to community. Texas' never-ending events calendar boasts far more than the state's famous annual fair. From fishing festivals to picnics presided over by country stars such as Willie Nelson, there's much to attract national and international visitors in Texas. Meanwhile, Austin is known as the live music capital of the world, and locals conflate music with life.
Events in Texas: Top Accommodations

The Best Family-Friendly Events in Texas
Welcome to the state with an ice cream festival! Meet Big Tex and watch BMX performers land big air tricks, or relax with a picnic in the famous Southern sunshine.
1. Texas State Fair

Every year, there is a different theme for Texas's celebrated state fair. Since the first fair in 1886, the event has drawn the state together at Fair Park, a National Historic Landmark. Over 24 days, representatives from nearly every discipline are represented. Attractions include the appearance of Big Tex, the fair's blimp-like mascot; a heated college football tournament; and a BMX bike show.

2. Luckenbach Family Picnic

Bring the family to this exciting outdoor festival, which was originally hosted by renowned country music singer Willie Nelson. Dating back to 1972, the event is ideal for young cowboys and girls, as it is set on a ranch and features leading local and international country music stars.

3. Austin Ice Cream Festival

Many argue that this is the sweetest part of Texan summers. Your whole family (including pets) is invited to the festival of frozen yogurt and indulgent iced treats made following traditions that hail from near and far. It's the most delicious way to cool down in summertime's sticky heat. Look out over Lady Bird Lake and enjoy the shaded spots in Fiesta Gardens.
Best Places to Stay for Events in Texas

The Best Outdoor Events in Texas
Polka dancing and parades, sauerkraut and fishing fanatics, buskers and the Texas Rose Queen – there's just too much happening in Texas' stunning scenery for an exhaustive list, but here's what not to miss.
1. National Polka Festival

On three consecutive summer days, the people of Texas gather together to celebrate their Czech heritage. This open-air festival features a plenitude of traditional foods along with polka music and dancing. Try sauerkraut and sausages and get involved in the parade, which winds through the city of Ennis. Bands and buskers perform traditional Czech tunes at this huge festival, which draws fifty thousand revelers.

2. Texas International Fishing Tournament

August augurs the end of summer, but the fish are biting. Fishing fans from across the state gather to fish on the sparkling waters of Laguna Madre Bay, Port Isabel, and South Padre Island. Over 10,000 spectators await their hauls on land and are not disappointed. Anglers young and old reel in redfish, flounder, perch, and trout, with a trophy for the winner.

Each October, Tyler becomes the site of the state's most fragrant festival. Conceived to support the growing rose economy in Texas, the festival attracts thousands. Central to the three-day event is the Rose Queen, who presides over the festival, attired in regal gowns. It's one of Texas's oldest and best-loved events.
Recommended Accommodations for Events in Texas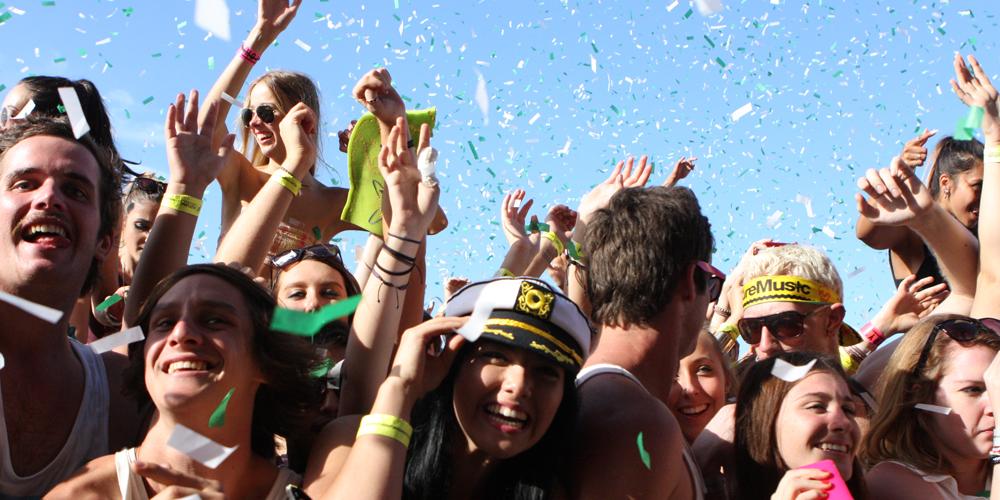 The Best Music Events in Texas
There's nothing more authentically Texan than a hoedown, so if you're planning on visiting (and even if you aren't), make sure you don't miss out. These are the Lone Star State's greatest gigs.
1. SXSW

First up on this list of must-see events in Texas is the South by Southwest Festival, where film and music crossover. More than a music festival, this mega festival also combines film, making for a unique experience that showcases the internationally renowned creative fire of Austin. What's more, the festival takes place in a plethora of venues hidden throughout the city and features over 1,000 artists from 63 countries around the world. It's the ideal entry into the vast and vivacious Austin music scene.

2. Austin City Limits

Another famed Austin musical event, Austin City Limits has expanded rapidly since its inception, and now fills eight stages across two weekends. Over 140 bands from a variety of genres play at the festival each year, which draws crowds of thousands to the city. Meanwhile, the ACL Food Court serves up the best of local cuisine, so you can tour the city in a single sweep. Don't miss the Art Market, with its kids' zone and photo booths.

If you're looking for a festival outside of Austin, try River City Rockfest in San Antonio. Located in the historic Alamo, the AT&T Center becomes a mecca for rock 'n' roll pilgrims from around the world. International A-listers such as Slipknot and Disturbed have headlined this rockin' summer festival.
Top Offers for Events in Texas
Frequently Asked Questions
Must-See Events in Texas: How much does it cost to rent a vacation home in Texas?
HomeToGo has incredible rentals for Must-See Events in Texas, with prices as low as $61 per night.
Can I find a vacation home for a group for Must-See Events in Texas?
House rental in Texas on average fits 9 guests.
What types of vacation homes can I find for Must-See Events in Texas?
You can find 15,576 Apartment rental and 57,797 House rental for Must-See Events in Texas on HomeToGo.
Average Nightly Rental Prices in Texas
Vacation Rental Price Information in Texas
Vacation Rental Availability in Texas
Rental Availability Information in Texas
Must-See Events in Texas Inspiration
Top Vacation Ideas in Texas