Choose the perfect vacation rental
Events in Kentucky: Top Destinations
Here's the Cream of the Crop of Must-See Events in Kentucky
So heady is Kentucky's potent heritage and history, arts, and culture, that there's always something cracking in the state. Whether it be the internationally renowned Kentucky Derby, a hot air balloon race, an open-air barbecue festival, or the World Chicken Festival, there's something on the table for every comer.
Events in Kentucky: Top Accommodations

The Best Family-Friendly Events in Kentucky
Turn back the hands of time at Eminence's Renaissance Fair or leap into a sea of sound and color at Louisville Art Fair – must-see events in Kentucky delight children year round.
1. World Chicken Festival

Kids might be picky eaters, but if there's one thing they can all agree on, it's chicken. What could be better than celebrating Kentucky's zeal for poultry with your family? In the heart of the exquisite Daniel Boone National Forest, egg-citing events attract young and old, and people dressed in chicken costumes rule the roost. Dig into fried chicken cooked in the world's largest skillet, take part in a hot-wing-eating contest, and watch live dance and music performances.

2. Kentucky Renaissance Fair

For every young squire and medieval damsel, Eminence 's annual Renaissance Fair is worth the pilgrimage. Jousting tournaments, circus performances, and storytelling are among the attractions of this unique festival. You and your family will be transported to the fictional 14th-century village of Briarwood in the Scottish Highlands during the time of Robert the Bruce.

3. Louisville Cherokee Triangle Art Fair

Discover more than 200 artists at the annual art fair in Louisville. A bright panoply of creations dazzle the eyes at this dynamic event. Watch artisans at work, and get involved yourself as you discover the historic Cherokee Triangle district. Parades and musical performances complete this picture-perfect family day out.
Best Places to Stay for Events in Kentucky

The Best Outdoor Events in Kentucky
Kentucky's outdoor events are so happening they leave a cloud of dust in their wake. Don't miss out. Watch stately elk roam the mountains and dig into sticky ribs by the river.
1. The Kentucky Derby

It's not known as "the most exciting two minutes in American sport" for nothing. The crowd roars as Kentucky's champion thoroughbreds leave a rising dust cloud in their wake. Churchill Downs is the hallowed ground where the derby has been running annually for over a hundred years. A host of side entertainment and quality food and beverages complete your day at the races.

2. Appalachian Elk Viewing Tours

Once upon a time, elk roamed the Appalachian mountains. However, they were gradually eliminated through the influence of settlers. But not to worry, Kentucky's Knott County is revitalizing the elk population in the area and offering visitors the chance to encounter the majestic animals up close. The best times to view the elk are spring, when the bulls shed their antlers, and fall, during mating season.

3. International Bar-B-Q Festival

Owensboro's early May celebration of Kentucky's famed barbecue culture is a must on any vacation in the state. Every year, the biggest and best of the state's food merchants congregate by the riverfront downtown for a feast of giant proportions. Besides endless opportunities to gorge yourself on sumptuous cuisine, there are plenty of arts and crafts vendors to intrigue you as you explore the site, barbecued goodies in hand.

Lexington's annual show is devoted to the great outdoors. Special seminars from experts accompany events such as fly-casting competitions, monster truck racing, and beloved stunt dog performances. Monster truck rides and fishing and hunting demonstrations fill this action-packed expo. Whether you're in the market for new outdoor attire or coming along to be inspired, this festival earns the title "ultimate."
Recommended Accommodations for Events in Kentucky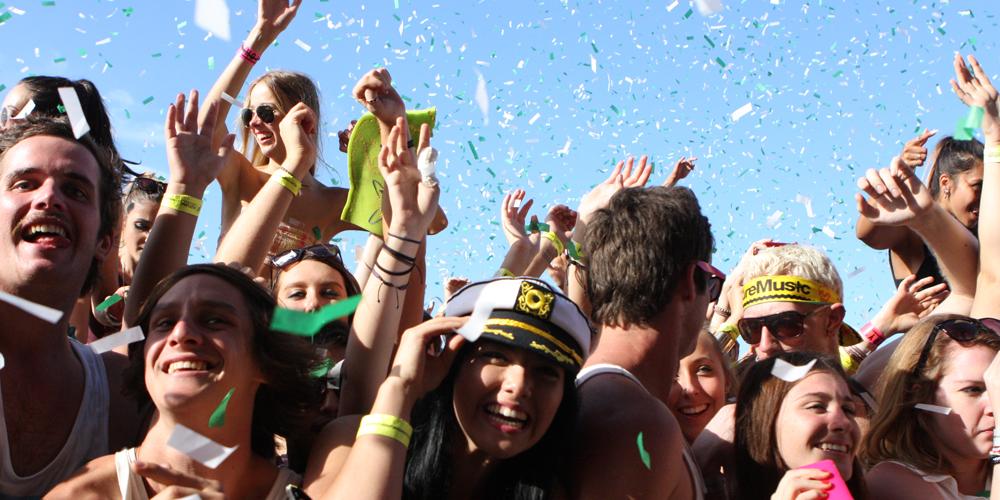 The Best Music Events in Kentucky
Sounds of the south-central States reverberate across the world – word-of-mouth praise for these Kentuckian music festivals carries far.
1. Kentucky State Fair

It wouldn't be Kentucky without the state fair. Come and check out the Turf Concert Series at Cardinal Stadium, where award-winning performers play while you picnic. A who's who of hip-hop, country, and Southern rock headline the main stage each year. Free shows, local food, and fairground rides make the state fair worth traveling for, and it's perhaps the biggest insight into Kentucky's culture all year.

2. The Festival of the Bluegrass

Lexington is home to the oldest bluegrass music festival in the state. Every first weekend in June, the state's bluegrass fans muster in a bucolic location for a hoedown. Besides featuring the best in bluegrass music, the festival places special emphasis on teaching the traditional genre to children.

Three days a year, Tyler Park in Louisville is transformed into a cacophony of sound and color. Sam Smith, Outkast, and the Black Keys are among the retinue of former festival headliners. Forecastle's emphasis on environmental activism attracts internationally renowned performers and fans by the thousands.
Top Offers for Events in Kentucky
Frequently Asked Questions
Must-See Events in Kentucky: What is the vacation rental cost in Kentucky?
On average, you can get a great vacation rental from $186 and get discounts up to 32%!
Can I find a vacation rental for a group of guests for Must-See Events in Kentucky?
The average size for a House rental is 195 m² and can fit 8 guests on average which is great for large groups.
What kinds of vacation rentals are available for Must-See Events in Kentucky?
We would advice browsing our incredible selection of Apartment rental and House rental for Must-See Events in Kentucky.
Average Nightly Rental Prices in Kentucky
Vacation Rental Price Information in Kentucky
Vacation Rental Availability in Kentucky
Rental Availability Information in Kentucky
Must-See Events in Kentucky Inspiration
Top Vacation Ideas in Kentucky