Choose the perfect vacation rental
Events in Iowa: Top Destinations
Discovering your ideal Iowa Event
Talk of Iowa and the mind starts racing with magical childhood memories, full of Tom Sawyer-like adventures. Today, however, Iowa has grown beyond its historical image and has become a hub for music festivals and family events all-year round. Whether you want an exciting or relaxing vacation, Iowa has what you're looking for.
Events in Iowa: Top Accommodations

Best Family-Friendly Events in Iowa
Traditional crafts, parades, amazing entertainment, sporting events, dazzling fireworks, and mouthwatering food are just some of the things that make Iowa's family-focused events so memorable.
1. Iowa State Fair

If there's one fair that you should attend in Iowa, it has to be this! Easily one of the must-see events in Iowa, the fair hosts one of the world's largest livestock shows and receives over a million visitors from around the world annually. There are hundreds of exciting activities aimed at all ages, from petting alpacas to fruit picking. Then, there are the food stalls, serving up tasty treats to keep you powered for the day. With endless attractions to explore, this is a definite must for families looking to get into the swing of Iowa culture.

Held over the last weekend of July, Nordic Fest celebrates Scandinavian culture in Iowa. Colorful flag hoisting events, traditional costumes, and a lot of singing and dancing help keep the entire family entertained while you get to learn more about this fascinating culture.

3. Cedar Rapids Freedom Festival

Running for two weeks in the lead up to Independence Day celebrations, this wonderful family-friendly event is based in the vibrant city of Cedar Rapids. Enjoy daily parades, music concerts, barbecue competitions, and a host of other family activities.
Best Places to Stay for Events in Iowa

Best Outdoor Events in Iowa
If your ideal vacation involves plenty of fresh air in the great outdoors, then Iowa may well have what you're looking for. A visit to any of these exciting open-air events in Iowa is sure to leave you satisfied.
1. National Balloon Classic

Every year, around the end of July and the beginning of August, the blue skies over Indianola are filled with over a hundred brilliantly colored hot air balloons, in all shapes and sizes. For a truly thrilling experience, book a balloon ride and take to the skies for mesmerizing views. Otherwise, just sit back and relax on the grassy meadows, breathe in the country air, and admire the beautiful sight of balloons hovering peacefully above.

2. Pella's Tulip festival

For a taste of Dutch culture in Iowa, head to the annual Tulip festival. Stroll through stunning tulip gardens, and revel in all things Dutch - from traditional dance and music performances to Dutch chocolate making demonstrations, costumes shows, and of course, delicious Dutch cuisine.

Widely considered to be the best county fair in Iowa, Spencer comes alive with the Clay County Fair every September. Thousands of visitors come together to enjoy concerts, exciting races, rodeo competitions, tasty food, and a lively atmosphere.
Recommended Accommodations for Events in Iowa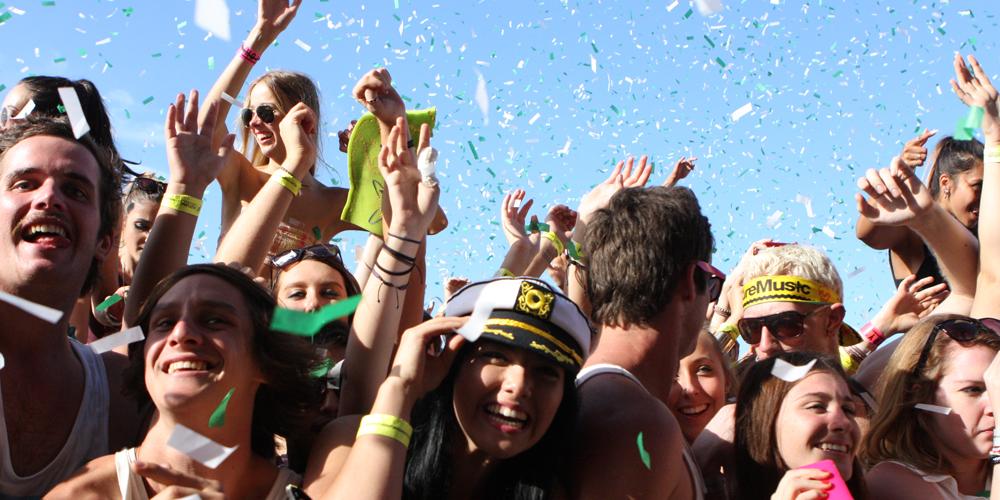 Best Music Events in Iowa
If music is what gets you going, then Iowa can provide the soundtrack. Dive into these outstanding must-see events in Iowa - just don't forget to bring your dancing shoes.
1. Burlington Steamboat Days

Founded in 1963, this fantastic festival continues to entertain music lovers with its medley of rock, country, rhythm & blues, and pop. Set on the banks of the Mississippi, it all takes place under the warm June sun. And if that's not enough, there are colorful parades and carnivals that celebrate the culture centered around the mighty river.

Every year in June, musicians, composers, and devoted fans congregate in Clarinda, to celebrate the music and memory of one of America's greatest big-band musicians. Learn more about the big band legend at the Glenn Miller Birthplace Museum and his Birthplace Home. Add to that the plentiful stage shows, events, and dances, and you've got the definitive celebration of an American musical icon.

3. Great Jones County Fair

Celebrated for over 160 years, this fair was once attended only by the local community. Today, the rural feel remains, but the fair has grown to become a musical big hitter featuring national and local talent alike. Throw in a vast number of stalls showcasing Iowa's rich culture and this fair will reward you with sweet memories for years to come.
Top Offers for Events in Iowa
Frequently Asked Questions
Must-See Events in Iowa: How much does it cost to rent a vacation rental in Iowa?
On average, you can get a great vacation rental for somewhere between $135 and $217 and find discounts up to 66%!
Can I find a vacation home for a group of guests for Must-See Events in Iowa?
in Iowa, large groups should look for House rental since they fit 8 people.
What types of vacation homes are available for Must-See Events in Iowa?
You can find 1,401 House rental and 813 Apartment rental for Must-See Events in Iowa right here on HomeToGo.
Average Nightly Rental Prices in Iowa
Vacation Rental Price Information in Iowa
Vacation Rental Availability in Iowa
Rental Availability Information in Iowa
Must-See Events in Iowa Inspiration
Top Vacation Ideas in Iowa