Choose the perfect vacation rental
Events in Indiana: Top Destinations
Experience Indiana's Exciting Events
You can look forward to Midwestern hospitality at its best at the multitude of events to be found in the state of Indiana. Whether it's live music, theater, or sports you crave, you'll find it all here. That's not to mention the art festivals, food festivals, and fun interactive games.
Events in Indiana: Top Accommodations

Best Family-Friendly Events in Indiana
There are family-friendly events scheduled throughout the year in Indiana, offering fun entertainment for kids and parents alike. Whether you take the family to meet Santa, or choose to dance the evening away at a summer festival, you're sure to have a great time.
The Cookie Monster and other popular kids characters come to life each year at this annual Indianapolis event. Rides, attractions, and non-stop entertainment will keep your little ones smiling all day long.

The annual tortoise race provides cause for celebration at Indianapolis Zoo each summer. Held a week before the Indianapolis 500 race event, Zoopolis makes for a great day out for all the family.

Each July, the city of Peru turns into a giant amusement park for nine days. The massive Circus City Parade, family events, and live entertainment make this festival well worth a visit.

Southern Indiana's largest annual event is the Jasper Strassenfest. You'll find German music, carnival rides, and games. And with events being held all over the city, it'll be hard to not get involved.

This annual, nine-day event held in Fort Wayne features a parade, art fair, food stalls, children's activities, and seniors events. No wonder it attracts around half a million visitors each summer!
Best Places to Stay for Events in Indiana

Best Outdoor Events in Indiana
During the warmer months, what better way to soak up Indiana's rich and varied culture than in the open air? Savor Asian specialties, catch exciting performances, and learn more about the state's agricultural heritage across a fantastic range of events.
1. Indiana State Fair

Easily one of the must-see events in Indiana, the Indiana State Fair is held each summer in Indianapolis. Celebrating the state's agricultural practices, there are rides, educational activities, farm animals and much more, ensuring both a fun and informative day.

2. The Lights Over Morse Lake Festival

Each 4th July, you can enjoy fireworks, a kids' carnival, a zipline, live music, and heaps of family fun. Thousands of people attend this annual festival, which is always a memorable and upbeat celebration.

Experience Asian culture and cuisine at this fantastic free event in Indianapolis. With traditional games and activities from all over Asia as well as gastronomical delights, this is the perfect place to learn something new and have a great day out as well.

Non-stop live performances, art installations, and hands-on activities make Indianapolis' Broad Ripple Art Fair one of the must-see events in Indiana.

5. Indianapolis 500 Festival

This annual community festival hosts almost 50 events each year, including a mini-marathon and an array of colorful parades.
Recommended Accommodations for Events in Indiana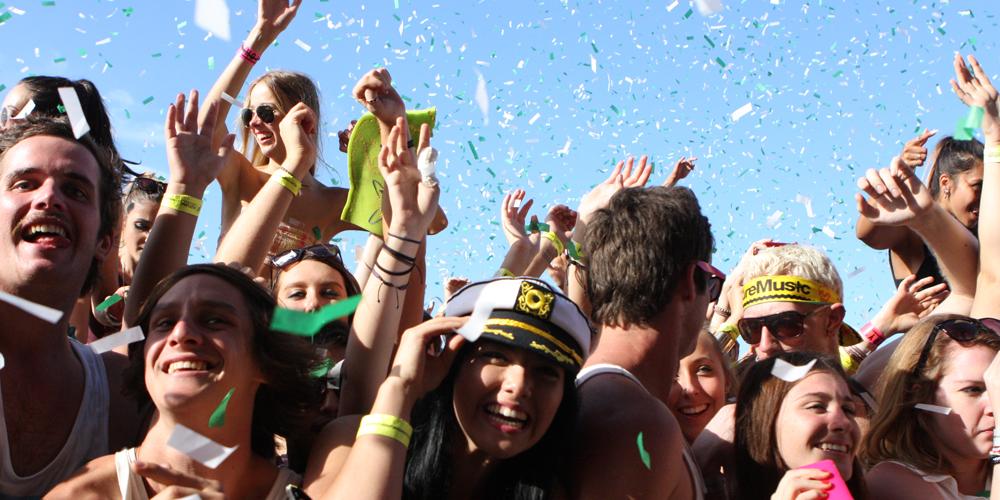 Best Music Events in Indiana
Indiana is a music-loving state, and come summertime, its cities and fields are awash with the sound of live music. Here are some of the best music events the state has to offer:
1. Bean Blossom Bluegrass Festival

Featuring the best of Bluegrass music, this event has the honor of being the longest continually running bluegrass festival in the world. A firm favorite among locals and visitors alike, it additionally has a campground, food and drinks stalls, shops, and music workshops.

Enjoy live performances by top jazz musicians from around the world as well as homegrown artists at the Indy Jazz Festival in Indianapolis.

3. Middle Waves Music Festival

Middle Waves takes place each September in Fort Wayne and is definitely one of Indiana's best music events. Expect the best of indie, folk, and rock.

4. Kroger Symphony on the Prairie

This festival has been running for over 35 years and is one of Indiana's most popular events. Featuring the Indianapolis Symphony Orchestra and guest performers each weekend at the Conner Prairie Amphitheatre, it makes for a great evening out.

5. Bloomington Blues and Boogie Woogie Piano Festival

Known fondly as the Bloomington Boogies, this festival is one of Indiana's best-loved events. Acclaimed pianists from around the world treat revelers to a musical feast each summer.
Top Offers for Events in Indiana
Frequently Asked Questions
Must-See Events in Indiana: What is the vacation rental cost in Indiana?
HomeToGo offers incredible rentals for Must-See Events in Indiana, with prices as low as $71 per night.
Can I find a vacation rental for a group of guests for Must-See Events in Indiana?
Usually the size of a House rental is 191 m² and may fit 9 people on average which is great for large groups.
What types of vacation homes are available for Must-See Events in Indiana?
You can find 1,403 Apartment rental and 4,097 House rental for Must-See Events in Indiana right here on HomeToGo.
Average Nightly Rental Prices in Indiana
Vacation Rental Price Information in Indiana
Vacation Rental Availability in Indiana
Rental Availability Information in Indiana
Must-See Events in Indiana Inspiration
Top Vacation Ideas in Indiana