Choose the perfect vacation rental
Events in Illinois: Top Destinations
These Events Are a Must-See in Illinois
Haul your friends into the Mississippi River, eat your weight in corn, or Dress as Superman for a day – Must-see events in Illinois are as eclectic as they are popular. From the world's oldest distance freshwater boat race to a cow created solely from butter, Illinois is a state packed with surprises.
Events in Illinois: Top Accommodations

The Best Family-Friendly Events in Illinois
With live rodeo demonstrations and festivals attended by thousands of superheroes, Illinois's events for children make a lasting impression. Travel back in time or give yourself a milk mustache.
1. Illinois State Fair

More than 700,000 visitors can't be wrong. The strong agricultural heritage is palpable at the fair's purebred shows and competitions. Watch modern cowboys and cowgirls try their skills at a live rodeo. Car and motorcycle races fuel these pastoral proceedings. Cavort around the fairground, jig about at country music concerts, and keep your eyes peeled for roving entertainers and the famous butter cow – a cow carved entirely from butter.

June is also when America's favorite superhero takes over Metropolis, on the Kentucky border. Fans from around the world travel to this small Illinois town to celebrate the man of steel. Celebrity guests, comics, and competitions are just the beginning of a family festival that packs a punch.

Each June, Illinois's longest-running local festival pays homage to the dairy farmers that rule the state. Stretching back to 1942, this tradition once saw more than 500 gallons of milk consumed. Today, milkshakes, fireworks, parades, and bed races feature at this uniquely entertaining, family-friendly event.

4. Fort Massac Grand Encampment

Fort Massac State Park was founded by a party of French scouts who explored the area in 1757. Looking out on the gushing Ohio River, the fort marks the southern edge of Illinois. History comes rushing to life at the state park every October, when cannonfire echoes once again and traditional crafts and foods recreate the frontier past of the state. Actors in period costume show you and your family what life was like at the encampment in the 1700s and 1800s. Kids will be wowed by the annual reenactment of the Battle of Drouillard Creek.
Best Places to Stay for Events in Illinois

The Best Outdoor Events in Illinois
Get out into the stunning scenery that makes Illinois so special at these unique events. From feasting on free sweetcorn to hauling your friends into the river, Illinois' outdoor events are different from anything you've experienced before.
1. Mendota Sweet Corn Festival

What could be sweeter than a festival devoted to delicious, butter-lashed sweetcorn? Some 50 tons of juicy, ripe corn is consumed at this 70-year farming festival. For this free event, Del Monte Foods donates the corn, which cooked in a historic steam engine constructed at LaSalle's processing plant back in the forties.

Come August, get thee to the Mississippi River, where you can take part in the biggest tug-of-war you've ever seen. Nearly 3,000 meters of rope is hauled between Port Byron and Le Claire, halting boat passages for the duration of the event. The late summer happening dates back to 1987 and is still going strong.

3. Chicago Yachting Club Race to Mackinac

For more than a century, sailboats have set off on a sprint from Chicago across oceanic Lake Michigan to Mackinac Island. Watch the spectacle as more than 3,000 sailors fill their sails and set off on their 333-mile journey. The event is the oldest freshwater race in the world and draws sailors from near and far. Bystanders can expect plenty of sailing yarns told over warming beverages on the mainland.
Recommended Accommodations for Events in Illinois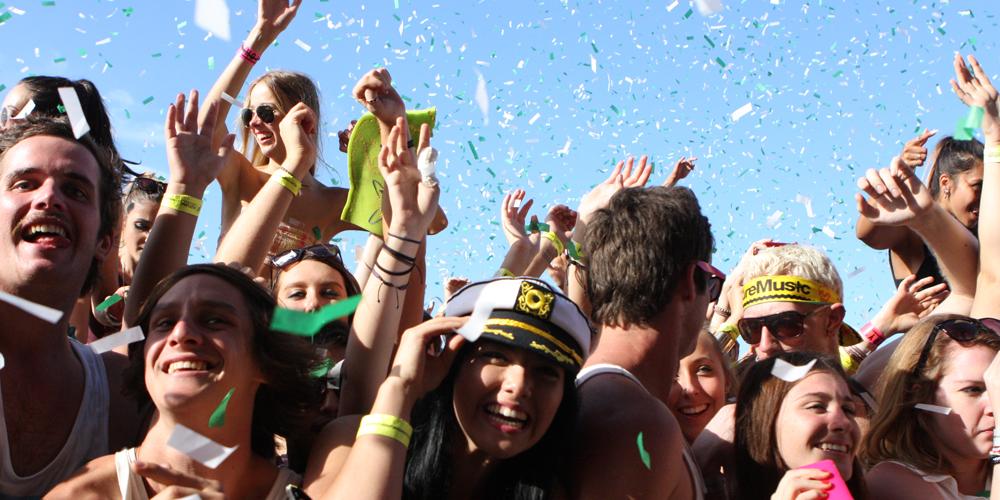 The Best Music Events in Illinois
Take the state's pulse at Illinois' biggest and best-known music festivals. From family-friendly Lollapalooza to the world's biggest dance music acts, these Illinois music festivals are unforgettable.
1. Lollapalooza

Nothing says "summer in Illinois" like Lollapalooza Festival in Chicago. For more than 20 years, this festival has drawn the world's top musical acts in alternative rock, metal, hip-hop, and electro. You'll also see comedy, dance acts, craft booths, and art installations, which make for perfect between-set Instagram fodder at this international event.

Each Memorial Day, Three Sisters Park in Chillicothe welcomes some 20,000 music fans. Over the course of four days, attendees can hear an eclectic mix of musical acts. Previous headliners have included Willie Nelson, The Flaming Lips, Tom Petty, and Skrillex. Growing every year, Summer Camp understandably enjoys a loyal following of fans.

Fans of electronic and dance music flood into Chicago every June to boogie all weekend long. Previous performers have included Tiesto, Diplo, and Calvin Harris, to name just a few. Expect the biggest acts in the genre, glorious sunshine and a suitably electric atmosphere.
Top Offers for Events in Illinois
Frequently Asked Questions
Must-See Events in Illinois: What is the vacation rental cost in Illinois?
You can get a great vacation rental from $220 and get discounts up to 38%!
Can I find a vacation home for a group for Must-See Events in Illinois?
House rental in Illinois typically fits 8 people.
What types of vacation homes are available for Must-See Events in Illinois?
You can browse 3,535 House rental and 2,995 Apartment rental for Must-See Events in Illinois on HomeToGo.
Average Nightly Rental Prices in Illinois
Vacation Rental Price Information in Illinois
Vacation Rental Availability in Illinois
Rental Availability Information in Illinois
Must-See Events in Illinois Inspiration
Top Vacation Ideas in Illinois