Choose the perfect vacation rental
New Year's Eve in Florida: Top Destinations
Ideal Florida New Year's Eve Destinations
If you're hoping to get your year started right in a warm, sunny climate, a Florida New Year's Eve vacation is just the ticket. Whether you're with friends, family, or doing a bit of solo travel, you'll have tons of options for both excitement and relaxation in this diverse state. From glamorous South Beach to laid-back Key West, get ready to ring in the new year with plenty of sun, sand, and sea at the ready.
New Year's Eve in Florida: Top Accommodations

Best Beach Destinations in Florida for New Year's Eve
Celebrate a Florida New Year's Eve as you might expect, near the beach! White sands, bustling nightlife, and live music attract thousands of visitors to Florida's shores every year, and with good reason.
Known for its turquoise waters and white sand, this beach destination rings in the new year with live music, fireworks, and the Beach Ball Drop, for which over 10,000 inflatable beach balls are released from nets hanging over the street. The entertainment and live music goes until midnight.

Be sure to take part in the St. Augustine Beach Blast Off at St. Johns County Pier. This fun event offers over 30 food vendors, and a wine, beer, and champagne tent offers drinks for the adults. Kids can have lots of fun at the Kids' Zone, with balloon animals, inflatables, face painting, and more. A spectacular fireworks show makes the New Year's Eve festivities even more special for everyone.

With a 23mi. long, gorgeous beach and plenty of hip nightclubs, Daytona is a particularly popular Florida New Year's Eve destination for younger revelers. Kick start your New Year celebration with one of the city's beloved Bandshell Oceanfront concerts. A fireworks display follows, with another one at midnight. The Atlantic Ocean makes the perfect backdrop.
Best Places to Stay for New Year's Eve in Florida

Best Cities in Florida to Visit for New Year's Eve
Planning for a memorable New Year's Eve vacation in Florida? Here's a look at the top cities where you can ring it in in style.
1. Orlando

Catch the fireworks display at the Magic Kingdom as the clock starts ticking down to midnight, dance the night away at Disney's Frontierland, or join a rocking party at Epcot. The whole family can also have a great time at Legoland Florida, where you'll enjoy Lego block drops, a fireworks display, and a dance party. Other family fun can be had at at Dave & Buster's. For adults, the city's many clubs offer festive New Year's Eve celebrations (be sure to book in advance).

This island city is known for its interesting midnight drop traditions. Whether it's dropping a pirate wench from a ship's mast at Schooner Wharf Bar, the descent of a giant red shoe on Duval Street, or the dropping of a conch shell at Sloppy Joe's, a New Year's Eve vacation in Key West will be relaxed yet full of surprises.

3. Tampa

New Year's Eve in Tampa offers an eclectic mix of activities and events. Busch Gardens Tampa Bay offers festivities for the whole family, while the Florida Aquarium hosts a sleek event for those 21 years of age and over (be sure to look into tickets in advance). And everyone, of course, can enjoy the midnight fireworks at Cotanchobee Park. You can also get a great view at the event known as Rooftop Eve, held on top of the Fort Brooke Parking Structure.
Recommended Accommodations for New Year's Eve in Florida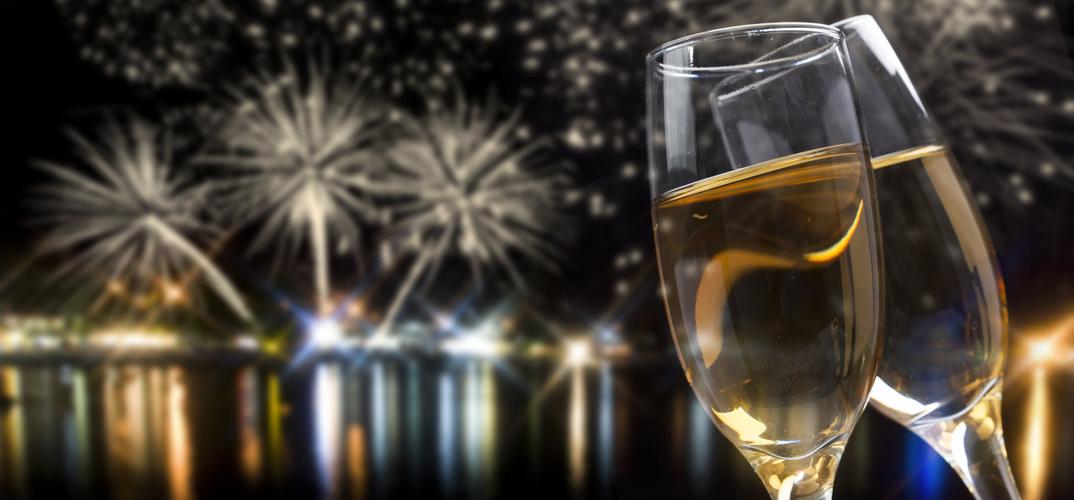 Best Places to Party in Florida on New Year's Eve
From fireworks and Champagne toasts to exclusive parties, Florida knows how to celebrate New Year's Eve in style.
1. Miami

Miami is known to be one of the state's top party destinations all year round, and New Year's is no different. Bayfront Park is a popular party hotspot to celebrate the evening. The wonderful event is free for the entire family, boasting great food, gorgeous fireworks, live music, and a huge orange drop at midnight. You can also enjoy a great street party and fireworks at Lummus Park and on Ocean Drive in South Beach.

Downtown Tallahassee offers a special party featuring live music, mouthwatering food, a ball drop, bounce houses, and fireworks. For something more exclusive, you can check out any of the local clubs, which will likely be hosting events.

If you're looking to enjoy an awe-inspiring New Year's Eve, be sure to attend the New Year's Eve bash at The Ritz-Carlton. This hip, adults-only gala offers fantastic music, an open bar, incredible food, fireworks show, and a champagne toast. If you're traveling with the kids, hit the Fernandina Beach for a fun Shrimp Drop.
Top Offers for New Year's Eve in Florida
Frequently Asked Questions
Florida New Year's Eve Destinations: What is the vacation rental cost in Florida?
HomeToGo offers great rentals for Florida New Year's Eve Destinations, with prices as low as $70 per night.
Can I find a vacation home for a large group for Florida New Year's Eve Destinations?
The average size for a House rental is 201 m² and may fit 9 people on average which is great for large groups.
What types of vacation homes can I find for Florida New Year's Eve Destinations?
There is a lot of House rental and Apartment rental that are great for Florida New Year's Eve Destinations.
Average Nightly Rental Prices in Florida
Vacation Rental Price Information in Florida
Vacation Rental Availability in Florida
Rental Availability Information in Florida
Florida New Year's Eve Destinations Inspiration
Top Vacation Ideas in Florida