Choose the perfect vacation rental
Events in California: Top Destinations
Endless Options on California's Diverse Roster of Events
California plays a leading role in numerous fields. From music to entertainment to the state fair, there's much to see and do at must-see events in California throughout the year. The music festival Coachella's attendees claim it's life-changing – at least for a few days! California is also the epicenter of Comic-Con, a global event that attracts some of the biggest names in entertainment. And the world's biggest country music festival? That takes place right here in sunny California, too.
Events in California: Top Accommodations

The Best Family-Friendly Events in California
Meet a cast of characters at must-see events in California, from your favorite superhero to dancing dragons. Children will be enthralled at this state's many options for a day out with the family.
1. Comic-Con San Diego

Enter a magical world and meet all your favorite Marvel characters at California's massive July comic convention. Based in San Diego, the event sponsors local platforms for art and culture. Enjoy games of all kinds, anime and indie films, plus the comic industry's Oscars, the Will Eisner Awards. Take part in a masquerade competition and let the kids spot their favorite celebrities at this major convention.

2. California State Fair (in Sacramento)

Held at Cal Expo in Sacramento, California's state fair offers a cornucopia of children's entertainment and is a superb insight into local history and culture. A permanent monorail system whisks you from fairground ride to fairground ride, and there are four separate trams — as you can imagine, there is much to see and do here. Competitions, live music, and plenty of California cuisine attract almost a million visitors a year.

Bright, 100-foot dragons dance above this parade that fills Los Angeles' North Broadway every January. Celebrating Chinese New Year has been a Californian tradition for over a century. The event attracts a throng of more than 100,000 people, who come for fireworks, martial arts demonstrations, and music. It's an unforgettable sight for young and old.
Best Places to Stay for Events in California

California's Best Sporting Events
Get your cheer on at California's sporting events. Roll into the Rosebowl with thousands of other fans to see one of football's most famous events, or join the crowds cheering for speeding cyclists competing in the Amgen Tour.
1. Rosebowl

Known as "The Grandaddy of Them All," the Rosebowl is the oldest, if not the biggest, of college football games. It has attracted more spectators than any other college football game since its inception in 1945, when it was moved to Durham, North Carolina for the year. The event is responsible for the stadium where it's played being designated a National Historic Landmark, lending an air of sanctity to this pivotal annual New Year's Day game.

The world's best cyclists roll into California for one of the biggest events in the sport. Covering some 700 miles and some of the state's most famous sights, the race lasts for eight days, animating the major cities through which it passes. Why not trail its participants through giant redwoods, wine country, the Sierra Nevadas, and the Pacific coast? Look out for the lead rider's yellow jersey, a reference to the California Gold Rush.

Kick your vacation into fifth gear with a head-spinning trip to the races at the Auto Club Speedway. IndyCar races are a quirky alternative to speed freakery. March sees the Auto Club 400 weekend, a heart-thumping heat of races to which fans return year after year.
Recommended Accommodations for Events in California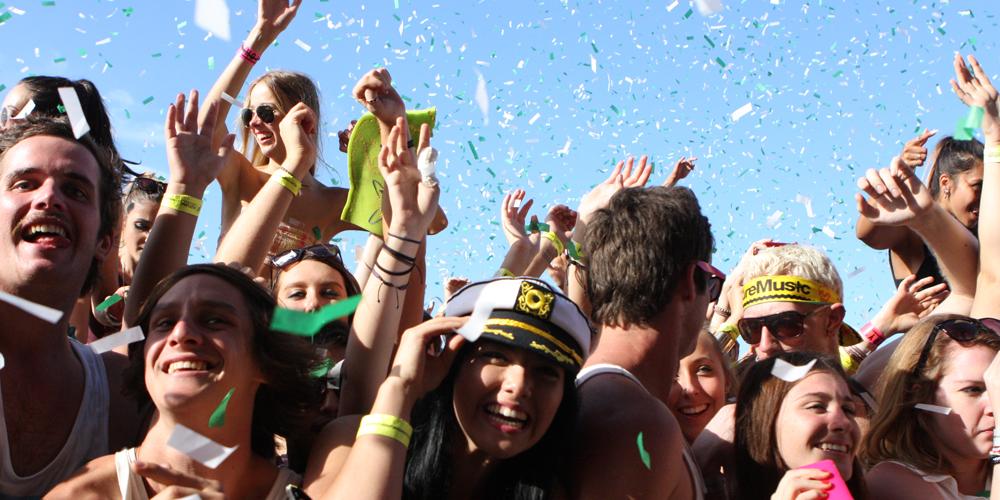 The Best Music Events in California
Being home to the Beach Boys, the state offers up a roster of music festivals for locals and visitors alike.
You're likely familiar with this annual April music festival thanks to every celeb's social media feed. Against a backdrop of dramatic desert, art installations and sculptures create a mirage-like feel at this indie festival featuring a who's who of musical artists. Be sure to get tickets in advance!

Country music has found a spiritual home at Stagecoach, the world's biggest festival dedicated to the genre. With performers spanning folk, bluegrass, and roots rock, there's no better place to soak up the sounds of the South. Notable performers have included Keith Urban, Willie Nelson, Taylor Swift, and Shania Twain, so there's something for everyone. Besides the music, California's best local dishes are also showcased over the course of this April weekend.

3. Outside Lands Music and Arts Festival

San Francisco's biggest music event features some 60 top performers from across the globe alongside art installations. The event is star-studded, with the biggest acts in every genre drawing in 60,000 or so fans every day. Headliners have included Radiohead, Tenacious D, Al Green, Kanye West, and Solange Knowles.
Top Offers for Events in California
Frequently Asked Questions
Must-See Events in California: How much does it cost to rent a vacation home in California?
The average cost for a vacation rental in California is usually around $366 and $620 per night.
Can I find a vacation rental for a group for Must-See Events in California?
House rental in California usually fits 7 guests.
What types of vacation homes can i book for Must-See Events in California?
You can browse 15,513 Apartment rental and 68,510 House rental for Must-See Events in California right here on HomeToGo.
The Weather in California
Average Nightly Rental Prices in California
Vacation Rental Price Information in California
Vacation Rental Availability in California
Rental Availability Information in California
Must-See Events in California Inspiration
Top Vacation Ideas in California