Climate Action at HomeToGo
The HomeToGo team cares: about our people, our customers and our planet.
HomeToGo's vision is to make incredible accommodation easily accessible to everyone - all while reducing our environmental impact, remaining a climate-neutral company and fighting against the climate crisis. Learn more about our current sustainability efforts and tips to help you reduce your own footprint when traveling.

The HomeToGo team cares: about our people, our customers and our planet. We are committed to being a pioneer in sustainable travel and building a platform that enables and empowers travelers and partners to make greener choices.
The travel and tourism industry accounts for 8-11% of the world's total carbon footprint (McKinsey, 2022), and accommodations account for 264 million MT CO2-equivalent emissions (World Travel & Tourism Council, 2021), reflecting ~10% of the total annual emissions of the tourism industry.
We know that taking tangible steps to reduce our own impact on the planet will help protect the communities and destinations that fuel tourism, ultimately preserving the environment and the travel industry long term. We have taken consistent climate action for the past three years across our operations:
We've been a certified ClimatePartner since 2019 and have actively supported regional tree planting and ocean protection projects, offsetting +1.5M kg CO2 and counting!
We've reached complete carbon neutrality across all of our global offices.
We are a Leaders for Climate Action member, joining 3,000+ other companies dedicated to fighting the climate crisis.
We understand that sustainability isn't just about offsetting or the high-impact decisions - it's about the small steps we take everyday that add up over time to protect our planet. That's why HomeToGo takes daily action for the climate across our operations:

We follow a trains > planes policy for all business travel.
Passengers who travel by train in 2018 produced around 79% less GHG emissions on average compared to passenger flights (Source: EEA's Transport and Environment Report, 2021).

We offer free veggies & vegan snacks in our office.
Eating a veggie diet means 2.5 times less carbon emissions than a meat diet, and by eating vegetarian food for a year you could save the same amount of emissions as a family taking a small car off the road for six months (Source: Vegetarian Society).

Our Berlin and Lithuanian headquarters operate on 100% green energy.
We've reached complete carbon neutrality across all of our global offices and the energy we use in our German and Lithuanian offices produces no greenhouse gas emissions from fossil fuels.

We host quarterly climate action events
Including a free vegan dinner and swap meets with our team to support a circular economy. One person's unused item can be another person's treasure!

Our team is passionate about protecting the environment
And we continuously share and implement initiatives to step up our sustainability, both personally and professionally. We swap tips and tricks on sustainable practices, host climate protection related webinars and trainings and actively support our team's participation in climate strikes.

We recycle our devices & empower
By donating gently used laptops to Labdoo, a global network of volunteers that enables children to participate in the digital world through the donation of technological devices. Labdoo serves schools and projects in 143 countries and we are a trusted partner in their journey.
What's next?
We're just getting started! Looking ahead, we remain dedicated to fostering a culture of sustainability for our team and our two types of customer - our partners and our travelers.
For our team

: We will continue to foster a culture that is focused on the preservation of our planet and proactive climate action.

For our partners

: We will further motivate our partners to incorporate sustainable amenities and practices by rewarding and highlighting green offers.

For our travelers

: We will continue building a product that makes it easier for travelers to identify, understand and choose sustainable travel options.

How can you travel more sustainably?
Start by choosing a more sustainable destination.
As a general rule, the most sustainable places to travel are likely closer to home than you think. Consider visiting your nearest city, beach town or nature escape for a staycation getaway. Traveling closer to home means less emissions from flying - and there's often so much to explore in our own backyards.
Looking to get a little further from home? From locales that are leaders in green energy to impressive conversion efforts, here are five HomeToGo recommended hot spots for eco-friendly holidays: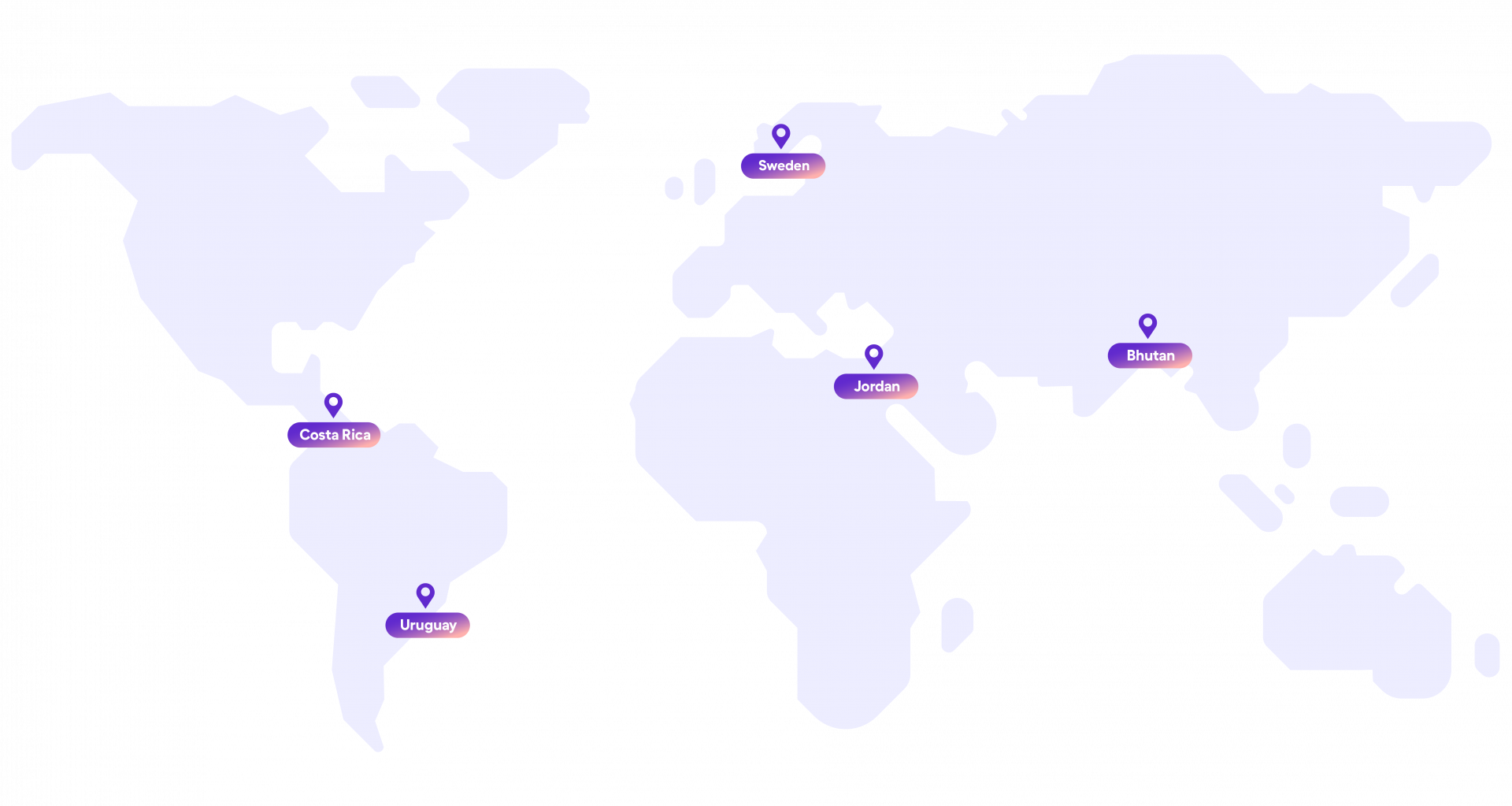 Sweden

: Renowned for its use of renewable energy sources, Sweden plans to be completely carbon neutral by 2045. It's also the ideal place to catch the elusive Northern Lights.

Costa Rica:

A leader in sustainability and conservation, Costa Rica was the 2019 recipient of the prestigious Champions of the Earth award. Visit to check out one of Costa Rica's remarkable national parks and protected wildlife.

Jordan:

This stunning Middle Eastern country created a

Meaningful Travel Map

to help conscious travelers discover unique and sustainable experiences - such as a garden bike ride with Jordan's Al Numeira Environmental Association.

Uruguay:

More than 95% of Uruguay's energy comes from renewable sources. Plus, the country's waters have been a protected area for whales and dolphins since 2013, making it an ideal destination to spot marine wildlife.

Bhutan:

One of the few carbon-negative countries in the world, Bhutan takes sustainable tourism to the next level. The country allows a limited number of annual visitors to prevent overtourism and promote authentic, responsible travel.
HomeToGo's six simple tips for sustainable travel
It's not just about the destination. Whether you're planning a beach getaway or a city escape, here are several simple steps you can take to reduce your travel footprint:

Get off the beaten path
Reduce the overtoursim burden on popular destinations and help spread the benefits of tourism to underrated locales.

Evaluate your transport
Calculate the most responsible way to get to your destination. The Environmental Defense Fund offers a tool to help you map the best routes and transport options to minimize your carbon footprint.

Pack consciously
Avoid common single use items by packing reusable options like water bottles, coffee mugs and straws. Use refillable silicone bottles for shampoos and soaps. Headed to the beach? Don't forget your reef-safe sunscreen!

Try the local cuisine
Order what you see the locals eating. These meals are often based in tradition (meaning they contain local and fresh ingredients that aren't shipped in from afar).

Shop sensibly
Buy local, quality products that are steeped in heritage; they make the best souvenirs to love for years to come. Don't forget to shop with a reusable tote!

Slow down and stay
What's the rush? Focusing your trip on one or two destinations means less plane, train or car emissions. Plus, it's simply the more relaxing way to travel.
Our Partners
HomeToGo is always open to partnerships that further our sustainability strategy. We are honored to work with some of the most respected and innovative partners in the industry including:
HomeToGo is a proud member of this community of 3,000+ entrepreneurs, brands and companies dedicated to fighting the climate crisis. Learn more.
We are completely climate neutral across all our Berlin and Lithuanian headquarters. We calculate basic and Scope 3 emissions to offset 100% of our carbon footprint for our offices.
We actively support projects like regional tree planting and ocean protection projects in our commitment to remain a climate neutral company. Learn more.
For Earth Day 2023, we partnered with 400+ other companies to reach 100 million people and help them learn how they can impact climate change. Visit HomeToGo's Time for Climate Action page to learn more.